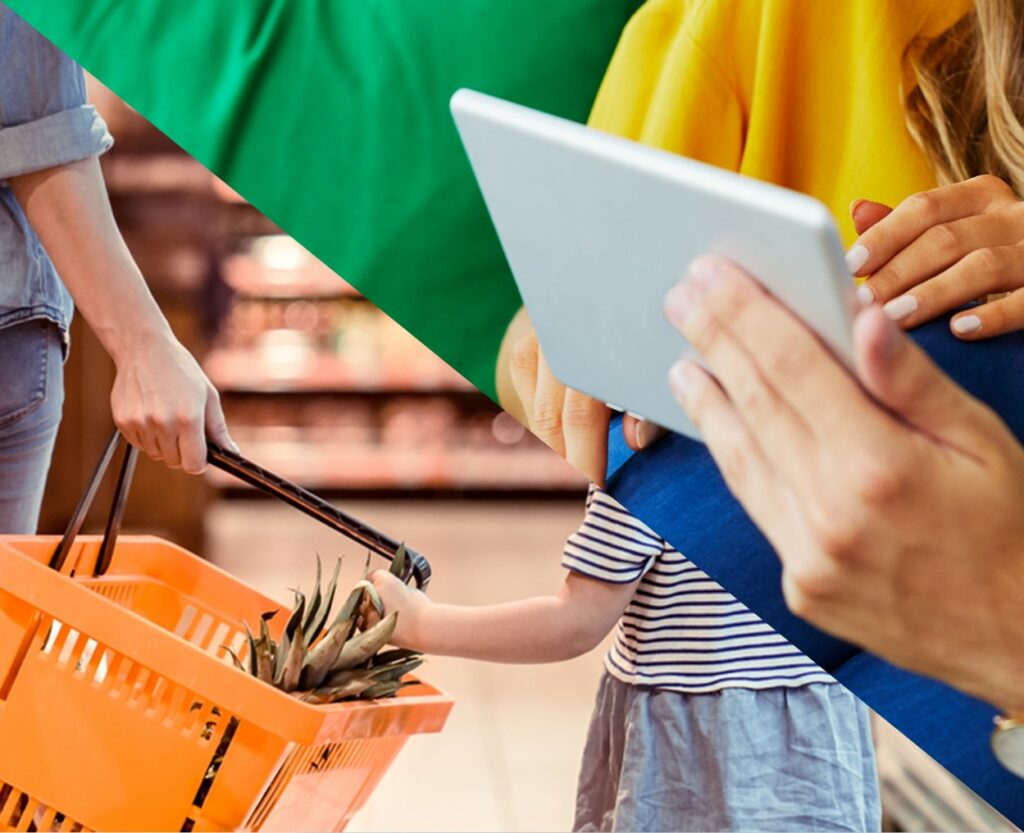 2020 has been a year of major transformation for supermarket retail. With the ongoing health crisis, we are witnessing rapid change in shopping habits: 1 in 2 French people now shop both in store and online for their grocery purchases!
budgetbox and Harris Interactive conducted a survey to better understand the omnichannel consumer who has become strategic for retailers and FMCG brands.
The omnichannel consumer: 1 in 2 French people in 2020
The transformation and digitalisation of shopping has accelerated sharply to cope with the health crisis: online grocery shopping is gaining market share and becoming entrenched in shopper habits, and the second lockdown will only emphasise this trend.
According to a study conducted by budgetbox and Harris Interactive in the second half of 2020, 46% of French people use grocery pickup (+22 points vs. 2018) and 34% have their shopping delivered after ordering online (+18 points vs. 2018). The e-commerce penetration rate in the supermarket retail industry has almost doubled in 2 years!
But almost all French consumers still visit traditional brick and mortar stores for their shopping, even if there is a dip in numbers. It's also worth noting that the digitalisation of supermarkets is also accelerating, with the use of handheld self-scanners gaining 17 points since 2018, and now used by 40% of French people.
According to the budgetbox & Harris Interactive study, 50% of French people now use both online and offline purchasing paths to do their daily shopping! And almost a third of French people (31%) switch between e-commerce and physical stores each month.


In order to better understand this wide-reaching trend, budgetbox and Harris Interactive ran a survey on the omnichannel consumer in grocery retail and have analysed their profile, shopping behaviour and expectations. Read on to discover the main findings of our survey!
Who are the omnichannel consumers: a strategic profile
Here's an overview of what supermarket retail omnichannel consumers look like according to the survey:
An equal gender ratio: there's a close male-female balance among omnichannel consumers (closer than the average gender balance of those who are in charge of shopping for their household in France)
An equal distribution across France: it's not just a regional or Parisian phenomenon. Note however more home delivery users in Paris because of the increased availability of service.
An over-representation of under-50s and younger generations: 25-34-year olds, who make up 25% of omnichannel consumers, are the most over-represented (+9 points compared with the average French population in this age group).
An over-representation of parents and AB professionals (higher and lower professional and managerial positions). 49% of omnichannel consumers are parents (+12 points compared to the French average) and 38% are AB professionals (+7 points compared to the French average).
The survey also looked into their habits: omnichannel consumers are ultra-connected in their daily lives and in their shopping habits. They are more likely to watch TV on the internet (+18 points vs. all French people) or listen to music online (+17 points vs. all French people).
They're also interested in finding out more about the products they buy: 57% of them use Yuka (vs. 42% of French people), 82% check the Nutriscore (vs. 73% of French people) and 70% consult customer reviews on products (vs. 53% of French people). We can therefore see that omnichannel consumers are keen on eating better.
These ultra-connected and ultra-informed consumers are also searching more for great deals and promotions. Indeed, 59% of omnichannel consumers say they are actively looking for promotional offers (+12 points compared to the French population) and 26% of them say they are searching harder for deals since the health crisis. 76% of omnichannel consumers say they choose their FMCG products based on promotions!
Last of all, the majority of these omnichannel consumers enjoy food shopping: 56% perceive it as a pleasant activity (+7 points vs. French people). This is probably because they make their lives easier by using the different shopping channels.

What are the omnichannel consumer's shopping behaviours and expectations?
According to the survey, 69% of the average shopping budget of omnichannel consumers is spent in store and 31% is spent online. With e-commerce getting 1/3 of their expenditure, it can therefore no longer be considered marginal: there is a real mix of the two channels.
They use the digital channels and traditional stores for different reasons and purposes. On the one hand, they shop online for convenience and to save time (the same reasons they use handheld self-scanners in store). The third reason for shopping online for groceries in 2020 is to respect social distancing.
On the other hand, they continue to visit brick-and-mortar stores to see and touch products, to have a wider choice of items and for a more human experience.
They also use the shopping channels for different types of purchases: in store is used to do both a big shop and last-minute shopping, whereas click & collect is generally used just to do a big shop. It should be noted that there has been an increase in the use of e-commerce for last-minute shopping, i.e. just for essentials (+6 percentage points for click & collect and +8 points for delivery since 2018): this shows that these digital purchase paths are becoming part of their shopping habits for all of their grocery needs.
Looking at how long they spend doing their shopping on each channel, shopping in traditional stores is perceived as taking longer, from 30 minutes to 1 hour, while most omnichannel consumers say they spend less than 30 minutes when doing their grocery shopping online.

This can be partly explained by changes in online shopping habits: in 2020, the use of smartphones for shopping caught up with the use of computers, gaining 22 points since 2018! Smartphones allow people to do their shopping anywhere and at any time. The use of shopping lists or the list of previous purchases also plays a part in the speed of the shopping experience: 72% of omnichannel shoppers use it when shopping online (25% of omnichannel shoppers use it systematically).

This behaviour has an impact on impulse buying: the same omnichannel consumers state that they make half as many unplanned purchases online compared to in store! Product visibility is lower on phones or when shopping off a list.

Finally, as far as the expectations of these consumers are concerned, the priority in shopping remains price and promotions (the 1st and 3rd criteria), but product quality appears in 2nd place and the consumption of healthy products is 5th.
Brands and retailers are therefore faced with more demanding and better informed customers who want both to save money and to eat better. Particularly in online, their expectations in order are: price, wider choice, more local products and environmental considerations (greener delivery, less packaging…).
In summary: the omnichannel consumer
Omnichannel consumers – a massive phenomenon involving a strategic part of the population (younger generations, parents and AB professionals with strong purchasing power) – have become a must for consumer brands and retailers. It is important to understand them well and adapt one's strategy to succeed in seducing them and building their loyalty.
Omnichannel shoppers switch seamlessly between purchasing paths according to their needs and they look to save time. Connected, well informed and demanding, they are looking for low prices but also want to consume better and more responsibly.
Want to find out more about the omnichannel consumer in supermarket retail? Download the results of the survey in this infographic.
Methodology: the survey was carried out on a representative sample of 1,705 French people aged 18 and over, and 855 connected consumers. Questionnaire carried out online in August 2020.
Definition of the omnichannel consumer: a person who shops both in shop (traditional checkout and/or self-scanning) AND in e-commerce (drive and/or delivery).