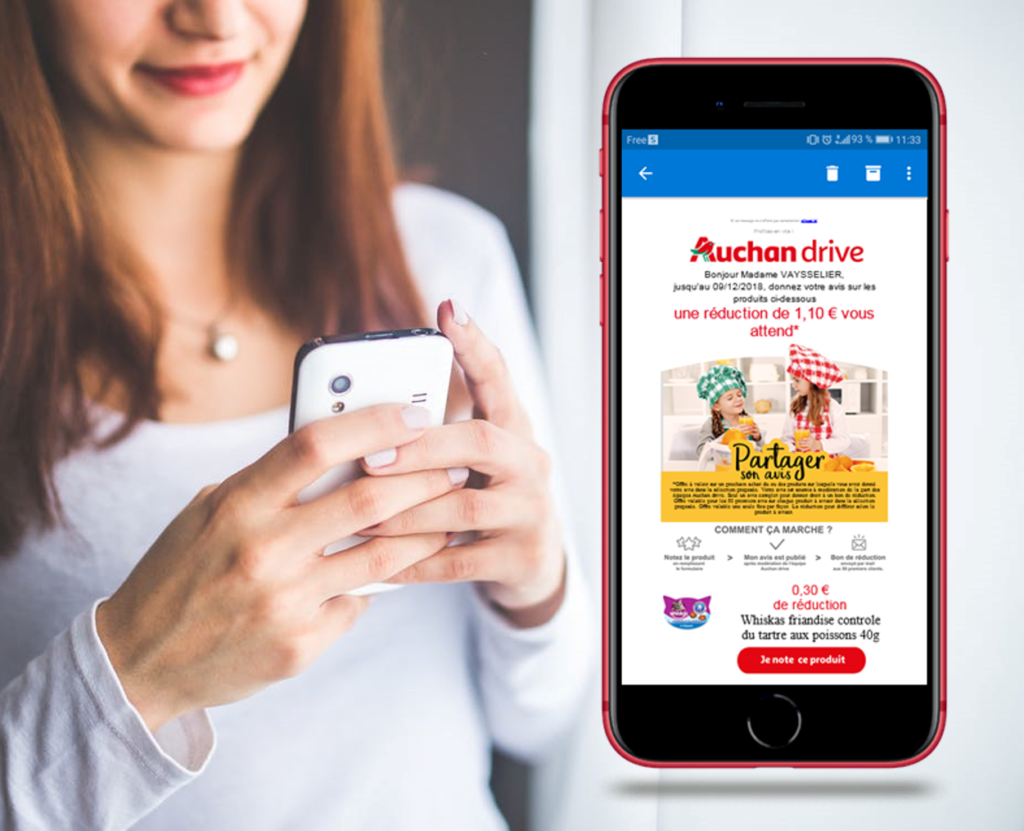 Popular with consumers and sales accelerators, customer reviews on products are becoming essential on e-commerce websites.
Distributors and brands need their products to display a sufficient number of reviews in order to see the benefits. That's why Auchan Retail France, Mars and Procter & Gamble used budgetbox's Review Booster solution.
The appearance of customer reviews in supermarkets
Today's consumers are increasingly looking for transparency and information about the products they buy. After hotels, restaurants, household appliances and other sectors, customer reviews have appeared in the food industry. Auchan was one of the precursors by integrating them into its Auchan Drive website in 2016.
Customers like reviews in supermarkets: 68% of digital consumers consult reviews on everyday products1.
Customer reviews are also a strong business lever for retailers and brands: when a product reaches 50 reviews, its sales increase by an average of 30%! And when it reaches 200 reviews, the increase in sales reaches 44%2.
However, e-merchants and brands struggle to collect feedback on everyday products. Why is this? These products are perceived as less engaging than an experience in a restaurant or hotel, for example.
A solution to boost reviews on everyday products
To quickly increase the number of product reviews on its e-commerce site, Auchan Retail France used the budgetbox marketing platform. Through this platform connected to its customer feedback management solution, Bazaarvoice, Auchan rewarded its customers in exchange for their feedback on certain products purchased.
Customers are rewarded for their time with a discount voucher for a future purchase of the product on which they have given their opinion.
"We have a strong interest in increasing reviews and comments on the products on our Auchan Drive website. The Review Booster format allows us to meet these needs, while bringing purchasing power to our customers. Rewarding people who leave a review with a discount voucher that they appreciate, justifies the exercise and reinforces their engagment with the retailer.
" Gauthier Dupont, Data Partnership Manager, Auchan Retail France.
The discount voucher is financed by the brand. Mars and Procter & Gamble were the first companies to test the solution in December 2018.
"Consumers need to be reassured about the products they buy and a large majority will turn to the opinions of their peers. We are committed to providing them with maximum transparency and information about our products. Through the Review Booster format by budgetbox we give them access to a greater number of customer reviews by rewarding contributors.
"Antoine Saillour, Auchan Account Manager, Procter & Gamble.
How does it work?
After purchasing a product on Auchan Drive, the customer receives an email asking them to leave their opinion on the product, in exchange for a discount voucher.
The customer clicks on the email and is redirected straight to a page to leave their rating and a comment on the product in question. Once the review has been validated, they receive their discount voucher in their account on the Auchan Drive website.
The results
Including a discount voucher in the email asking for product reviews is an effective way to get results: the conversion rate of the email was doubled and the number of reviews increased nearly fourfold in a few days!
The budgetbox Review Booster solution therefore helps obtain a significant number of product reviews quickly, benefitting the retailers, brands and end consumers alike.
"Reviews are very important on petfood. Pet owners love to take care of their animals and recommendations from other owners is now a key factor in shoppers' choices. The more product reviews there are, the more customers are reassured about the quality of the product. The format proposed by budgetbox is effective to generate more feedback but also to build a good relationship with our customers by valuing the time they spend sharing their feedback on our products.
" Laurent Besnier, E Commerce Sales Channel at Mars Petcare.
If you're a retailer and want to find out more information about how you can benefit from this solution, check out our Review Booster page here. For brands, the Review Booster page is here. You can also read the article that the French consumer magazine LSA published on the subject (in French) : https://www.lsa-conso.fr/le-dispositif-d-auchan-drive-pour-tripler-le-nombre-de-ses-avis-clients,314491
Follow us on Linkedin