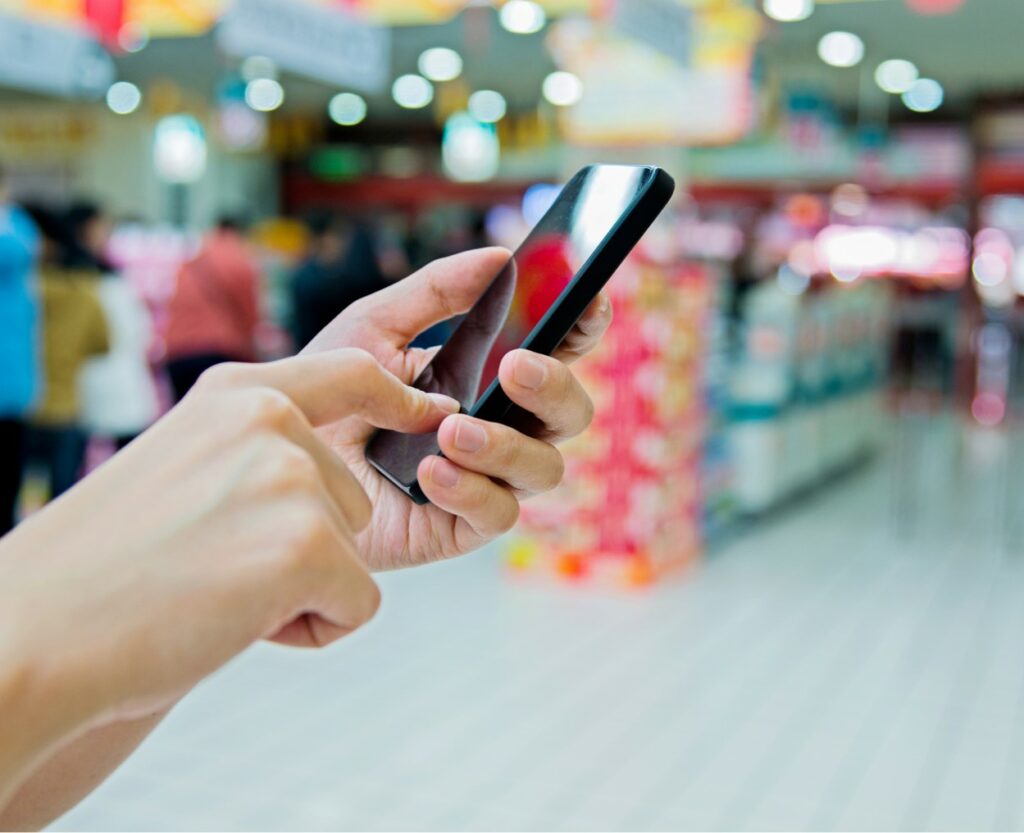 Smartphones have become an indispensable part of our daily lives in recent years, for entertainment, information, communication and even shopping.
Likewise, the use of smartphones in grocery shopping has accelerated significantly in 2020, both in stores and online:
In-store, 30% of French people shop with a Scan & Go mobile app, +20 points vs. 2018.
Online, 59% of users order their groceries via their smartphone, +24 points vs 2018.
The e-commerce boom and social distancing in stores are also factors that explain the rise of mobile use in retail.
To connect with this audience effectively, it's essential, as a retailer or FMCG brand, to understand their behaviour and expectations.
To help you with this, we've put together the key figures from the Mobile segment of our survey on the modern consumer in supermarket retail, run with Harris Interactive.
Glossary:
– Smartphone user in e-commerce: a consumer who does their daily shopping online (click and collect or home delivery) using their mobile phone.
– In-store smartphone user: a consumer who scans products in-store with their smartphone via the store's Scan & Go mobile application.
Methodology: survey conducted on a representative sample of 1,705 French people aged 18 and over, including 519 e-commerce smartphone users and 509 in-store Scan & Go mobile application users. Questionnaire conducted online in August 2020.
WHO ARE THE CONSUMERS WHO USE THEIR MOBILE TO DO THEIR GROCERY SHOPPING?
Given how attached they are to their smartphone in daily life, it's not surprising that Millenials are over-represented among consumers who use their smartphone to do their daily shopping (either via mobile self-scanning in stores or online): 45% of users are aged between 18 and 34, which is 20 points more than the average French population.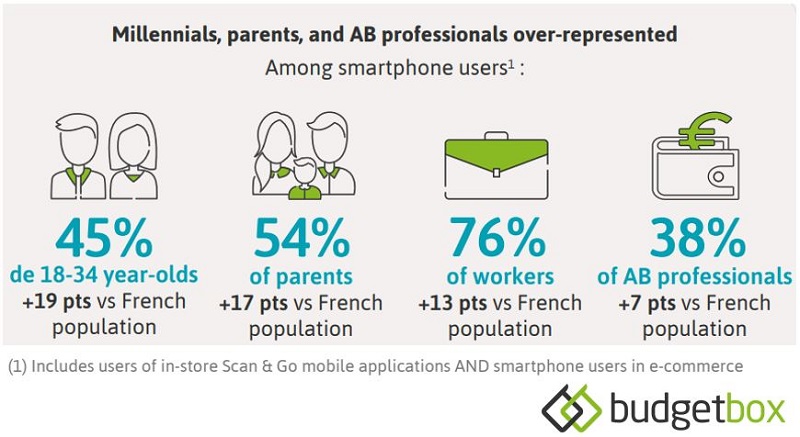 But Millenials are not the only over-represented audience segment. Parents, working people and people from higher income brackets are also taken with their smartphone, which they use for time saving and convenience reasons.
In terms of geographical distribution, people who use their smartphone for shopping in supermarkets are mainly urban dwellers living in large cities: 51% of them live in cities with more than 200,000 inhabitants, which is +6 points compared to the average French population.
It is also worth noting that users of Scan & Go in-store mobile applications are over-represented in the Paris region: 23% of users live in the Paris area, which is 5 points higher than the average French population.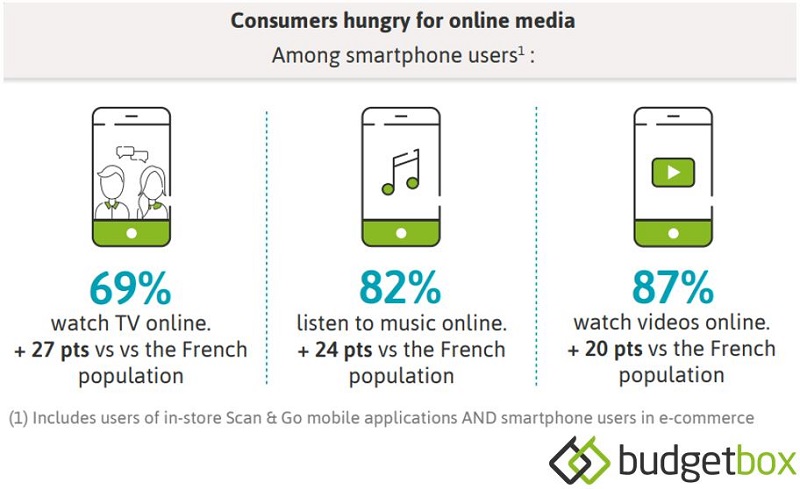 People who use their smartphone for their grocery shopping are also ultra-connected and consume different media online: TV, music and video content. These mediums provide brands and retailers an opportunity to multiply the points of contact with this audience and to be visible beyond the buying journey.
FOR WHAT REASONS DO THEY USE THEIR SMARTPHONE TO SHOP?
The main reasons why consumers use their smartphone to do their grocery shopping are similar for both e-commerce and in-store shoppers.
First of all, smartphone users want to save time by shopping with their smartphone:
In e-commerce, mobile apps allow customers to quickly add products to their cart and place an order in just a few clicks.
In store, customers cut down on queuing: Scan & Go mobile applications allows customers to scan their products as they shop and pay for their purchases in app without going to the cashier.
In order to meet these expectations, many retailers have already developed a Scan & Go mobile application such as Asda and M&S.
In our study, consumers who use their smartphones in store say they spend less time doing their shopping than consumers who use the traditional checkout: less than 30 minutes on smartphone vs 30 minutes to 1 hours for the traditional checkout.
The second most frequently given reason for using a smartphone is convenience:
With online grocery shopping, customers can shop as and when they want by adding a product to their shopping list on the retailer's mobile application as soon as they think of it.
In store, scanning and paying with your cell phone removes the need to unpack products at the checkout and also lets shoppers keep an eye on their basket and budget via the mobile screen as they shop.
HOW DO SMARTPHONE USERS SHOP IN SUPERMARKETS?
An emphasis on product information
In order to appeal to consumers who use their phone to buy groceries, FMCG brands must pay special attention to the nutritional quality of their products and be very transparent about the information they provide.
Take Yuka as an example, a mobile application that allows consumers to scan products and check the quality of the ingredients. People who use their smartphone to shop in supermarkets are over-represented among the French population who user this app: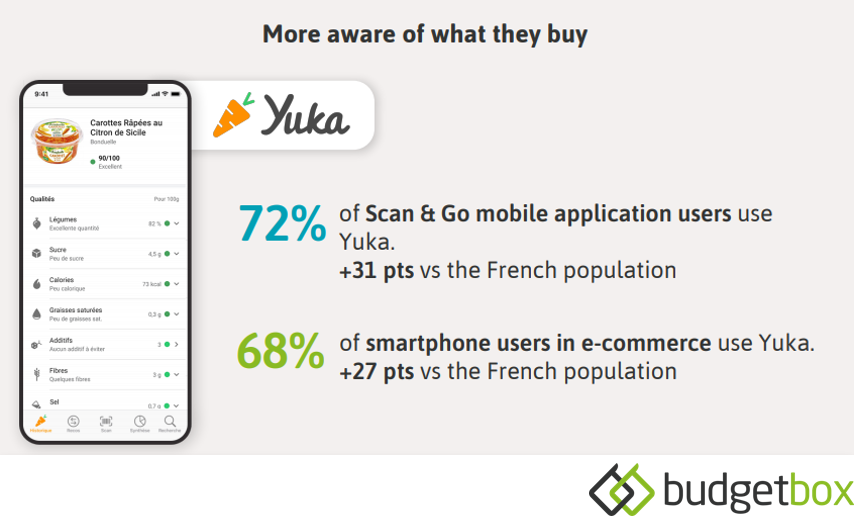 This proves that these consumers are concerned about what they buy. They are also tend to check the nutri-score or read customer reviews before adding a product to their basket.
Reduced impulse purchases and more budget control
The use of digital during the buying journey has drastically reduced impulse purchases.
In store, customers who shop on their smartphone make two times fewer impulse purchases than customers who use the traditional checkout. Those who use their cell phone spend less time at the checkout and browsing the aisles and are therefore less likely to make additional purchases.
In e-commerce grocery shopping, nearly 80% of smartphone users use a shopping list. As they select items from a list they have better control over their purchases and there's little room for impulse buying. It's also worth noting that the small screens on phones do not encourage "browsing" in the aisles of the e-commerce site, which further reduces the temptation to make unplanned purchases.
Keen on promotions
In our survey, people who shop via their smartphone to are fond of special offers. First of all, they are actively looking for promotions:
69% of mobile users online, +22 points vs. the average French population.
76% of Scan & Go mobile application users in store, +29 points vs. the average French population.
Most of these consumers also choose products based on promotions: 86% of in-store smartphone users and 81% of e-commerce smartphone users.
THE 3 KEY TAKEAWAYS FROM THIS SURVEY FOR FMCG BRANDS
Shopping on mobile phones is a fast-growing phenomenon in the retail sector, both online and in store.  
FMCG brands must adapt their communication strategy to reach this strategic audience which is young, family-oriented, urban and of course highly connected.
Smartphone users are looking for convenience and to save time, and shopping via mobile does not favour unplanned purchases.
To ensure visibility on this device, FMCG brands must invest in the marketing formats provided by retailers and have a clear and impactful message to attract the customer's attention quickly.
These customers are looking for product information and are keen on good deals.
To attract them, FMCG brands must highlight the nutritional qualities of their products. Adding a discount voucher to their marketing strategy is an important lever to influence purchasing behaviour.
To discover all the key figures from our survey, download our infographic!