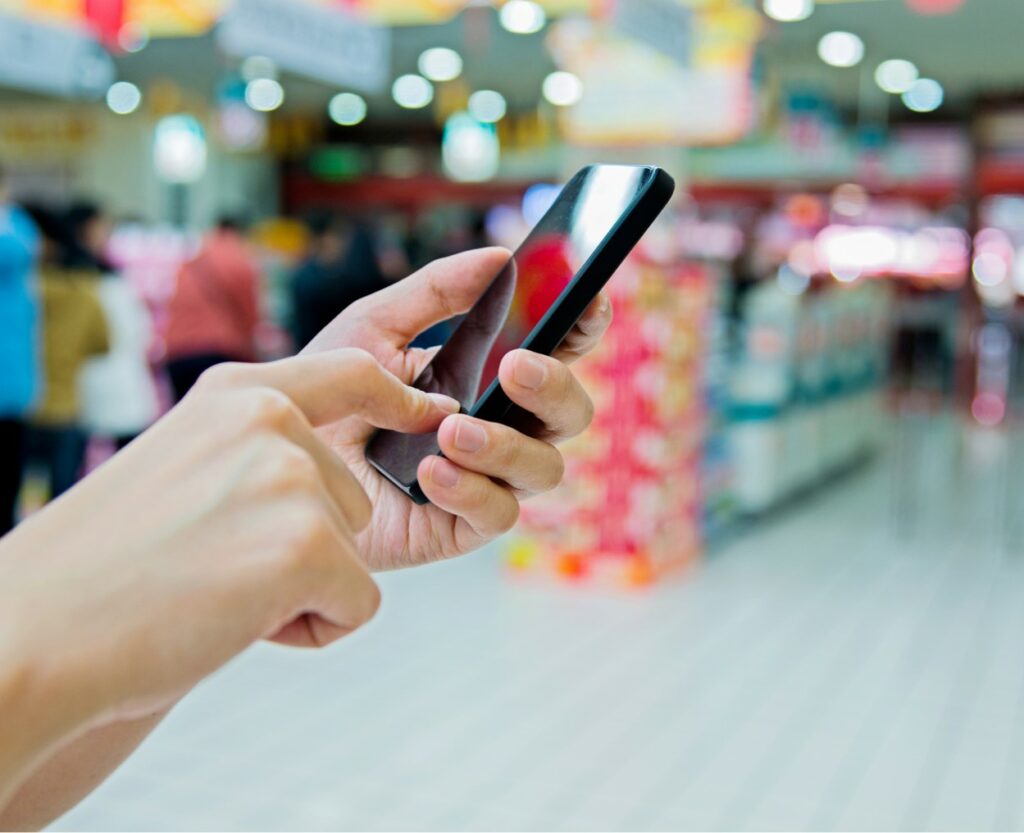 Drive-through collection, delivery, pedestrian pick-up: in the past few years digital tools have changed the way we run our daily errands. Consumers have quickly adopted the new features that ease their experiences, and now have new expectations for their in-store purchases, which retailers are meeting.
Amazon understood this very well and launched its first Go Grocery store in February 2020 in Seattle, using Amazon Go's "no line, no checkout" technology for the first time in a retail environment. In March 2021, the online giant launched its first grocery store outside the US, opening up in London. The goal? To catch up with its competitors in the traditional brick-and-mortar industry by better meeting the needs of modern consumers.
Should French retailers be worried? Seeing how big superstores have been struggling, retailers are tackling store digitisation head on to make up for lost time and to make the in-store purchasing experience more dynamic. And the health crisis is making companies move even faster.
A recap of the digital tools used to transform French superstores and local shops alike.
Which digital tools are trending in store right now?
One can think of several tools when the phrase "in-store digital" is pronounced:
Self-checkout, which lets consumers scan products themselves at the end of the purchasing journey. Widely used in France (57% of supermarkets and big-box grocery stores have a self-checkout lane). Customers in a rush love this feature.
DOOH (Digital Out Of Home) screens placed along the purchasing pathway create a more interactive experience than traditional banners. These digital screens can even offer specific content depending on the weather or time of day.
FNAC-Darty advertising is aware of that, which is why it decided to roll out 2,000 new screens [article in French] in its brick-and-mortar stores.
Scan & Go, also called self-scanning, which lets consumers scan their products' barcodes as they are shopping with a portable scanning device or with their cellphones, to avoid waiting in line at checkout. Easy to use and quick, self-scanning is currently gaining a lot of traction.
This last lever is a great tool for digitising the grocery shopping experience, especially when we know that 80% of French consumers said they'd rather leave the grocery store than stand in line at the cash registrar for too long1.
In France, 8 out of 10 big-box grocery stores already offer some type of self-scanning solution. In 2018, according to a Harris Interactive and budgetbox study, 23% of French consumers already used a Scan & Go service when buying their groceries.
"IT IS BETWEEN 17 AND 30% OF PURCHASES"
Michel-Édouard Leclerc, founder of French supermarket chain E.Leclerc, about self-scanning in his stores
Therefore it is only logical that Scan & Go technology is being implemented in big supermarkets. Michel-Édouard Leclerc, CEO of E.Leclerc, was mentioning Scan & Go on the radio channel RMC in August 2018, explaining that "overall it works well. It represents somewhere between 17 and 30% of purchases". Therefore, retailers have well understood the impact of in-store digital solutions for their businesses.
So why is this so popular? Simply because Scan & Go meets today's connected consumer's expectations: simplicity, practicality, time efficiency, control over the budget via a screen, and society's latest need… social distancing!
More specifically, the current health crisis is increasing the speed at which companies are rolling out their Scan & Go services, both in France and abroad: it is an efficient way of enforcing social distancing rules, all while avoiding queues.
When comparing the numbers year to year, our partner retailers saw that the share of self-scanned transactions for March had doubled from last year.
In the United Kingdom, Marks & Spencer has doubled its number of stores equipped with self-scanning tools.
But this trend goes beyond supermarkets and large grocery stores, it is also appearing in local shops.
Local stores are also jumping onto the bandwagon
Convenience stores are also investing in Scan & Go technology, via mobile apps. Monoprix for example has a Scan & Go mobile service accessible via its "Monop'Easy" app. The self-scanning experience offered through the platform is easy, intuitive, and seamless.
And with the ongoing health crisis, Carrefour also accelerated the rollout of its "Scan Lib by phone" app.
This trend is truly global. In the United Kingdom:
Asda has launched its "Scan&Go Mobile" app in all its stores.
At Sainsbury's, between April and June 2020, 37% of all sales were made via the Scan&Go app, when it only represented 15% of sales at the end of last year.
For the consumer, the perks are: saving time, especially when they're only picking up a few items and need a quick "in'n'out" experience. According to the 2018 study from Harris Interactive & budgetbox, 59% of self-scanning users use the tool for their quick fix shopping (regardless of the store's size).
Let's take another example, the corner grocery store 4 Casino, where digital tools contribute to a more polished experience: customers can access the store 24/7 with their smartphones, shop using Scan & Go technology, access self-checkout registrars, digital screens for help with their shopping, voice activated assistant to find a product in the store… This is the store of the future, which you can already try in France.
We're sure it's clear by now: stores are already harnessing the power of in-store digital tools, and especially using Scan & Go, an innovative service that deeply impacts consumers' experience, for FMCG brands too.
In-store digital technology: what are the prospects in the coming years?
– Screens with face recognition technology: In the United States, Kroger et Walgreens are currently testing doors equipped with screens at the entry of the fresh produce section. They can assess the age, gender, and mood of the consumer to offer a personalised message.
– Fully automated stores: in China, Auchan has developed "Auchan Minute", fully automated locations offering a range of basic items. To enter the store, you must use your smartphone.
– Smart tags: these are electronic tags installed in the store's sections and are used to broadcast content, modify the product's price, or launch a special offer in real time. They also geolocate products in the store.
– Robotics, which E.Leclerc is looking into. The grocery giant partnered with Hease Robotics, which made a small robot that wanders through the aisles and helps customers.
Although some of these examples seem futuristic, they go to show the deep changes that supermarket retail is about to experience in the coming years.
And retailers already know this: they must adapt to an omnichannel consumer and offer an in-store purchasing experience that is as seamless as online shopping to be able to meet expectations. What new digital concepts will emerge in the store of the future to ease our daily shopping? Keep your eyes peeled!
In the meantime, check out our article about the 5 mistakes to avoid for a successful retail media strategy.