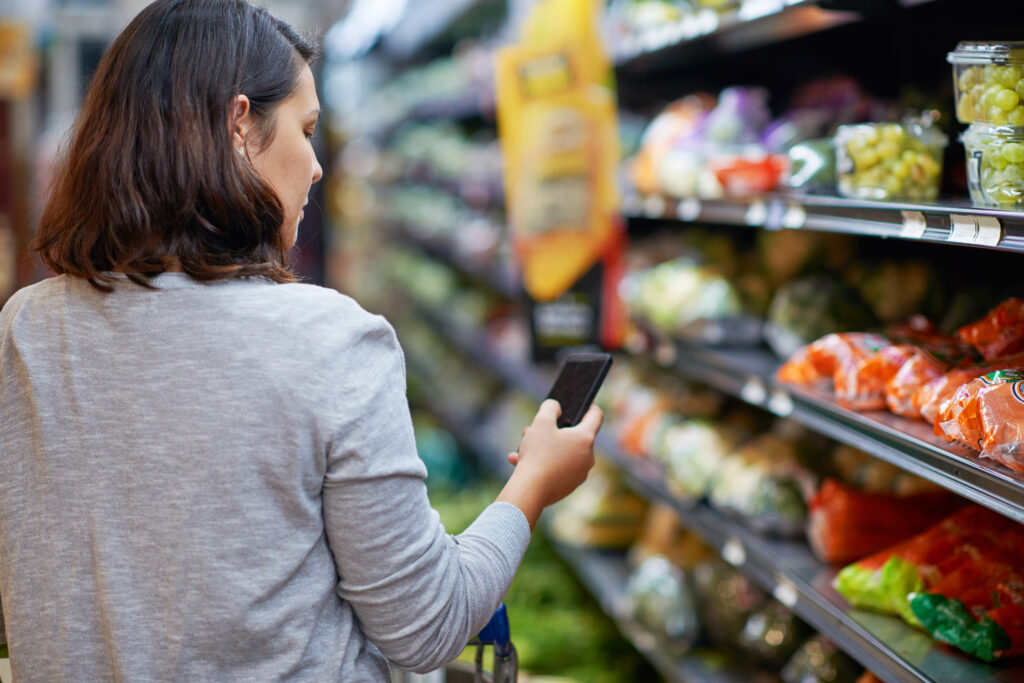 Retail media : retail media refers to all the communication and marketing techniques on consumers' purchase journeys, in-store and online. Retail media enables retailers to monetise their audience and brands to boost their sales.
Retail media is not a recent concept: retail stores have been offering in-store advertising solutions for a long time now.
However, with the emergence of digital purchasing paths, the concept has evolved: it is now more effective and a key growth driver for both retailers and FMCG brands.
In this article we'll answer 6 key questions about retail media in the digital age, to help you understand the challenges for retailers and brands, and its impact on consumers.
1. How has retail media evolved with the emergence of digital?
As in most sectors, digital has revolutionised retail media and its use by marketers.
With the emergence of new channels and changing consumption habits, retail media is evolving towards:
More data available to advertisers
This data is collected exponentially: it is now possible to track the consumer throughout their shopping journey, to know their preferences and habits in detail.
As a consequence of the first evolution of retail media, consumer targeting is more and more refined, and allows messages to be personalised according to the target's profile.
More consumer contact points
The target audience of retailers and FMCG brands is more than ever omnichannel in its everyday purchases. Drive, home delivery, self-scanning, in-store mobile applications… shopping is increasingly done via a screen. It's a format that allows advertisers to communicate natively with customers on their digital shopping journey.
Retailers are also adding advertising formats not directly on the shopping journey to their retail media inventories: thanks to cookies, it is now possible to communicate with consumers off e-commerce websites via display advertising on other websites.
Overall, thanks to digital, retail media is getting a little closer to the marketer's dream: delivering the right message, to the right target, at the right time.
2. Why do we say that there are no longer any barriers between the media and commerce?
We can even say that retail media is actually a mix of media and commerce.
Today's major digital medias are very close to e-commerce. Instagram has its "Shopping" feature, where it's possible to buy a product in just a few clicks through a picture, just like Youku, the Chinese YouTube, with its "see now buy now" feature that allows its users to buy clothes directly from a fashion show video. The search giant Google, meanwhile, is continuing to improve its Google Shopping functionality, particularly by partnering with retail stores such as Auchan and Carrefour.
Retailers, on the other hand, are turning into media companies.
Observe how e-commerce websites operate today: they have advertising spaces that can be used to reach an audience (the consumer) in search of a specific need (a product). Thus, e-commerce websites are equipped with all the necessary tools to be fully complete media companies.
Just take a look at today's major e-merchants who have become authentic medias. 60% of e-commerce platform Alibaba's revenue are currently generated through advertising. As for Amazon, it is estimated that by 2020 its advertising network "Amazon Advertising" will achieve a 7% market share in the online advertising business in the United States.
Traditional retailers are following this trend by developing their own in-house media agencies: Imediacenter for Auchan, ConsoRégie for E.Leclerc, Carrefour Media for Carrefour. Their goal is to monetise their spaces, to allow FMCG brands to communicate with their audience on the buying journey by exploiting their transaction data.
It's a market evolution that benefits retailers, FMCG brands, who use it as a communication lever, and final consumers alike, who want to receive personalised messages.
3. Why is retail media at the heart of major retailers' strategies?
Retail is a highly competitive sector: price wars rage and margins are low on the whole. Following the example of large e-merchants, traditional retailers are finding a new source of income in retail media.
With the margin of retail media being 6 times higher than that of retailers' traditional business1, the rapid development of this advertising activity is becoming essential to the retailers' existence!
According to an e-Marketer estimate, the share of revenue generated via retail media is already 1% of food retailers' total revenue. The potential for growth in advertising turnover among retailers remains significant when you look at the share of this business for Alibaba or Amazon.
Retail media therefore has a bright future ahead for major retail companies, which are constantly improving their performance and relevance.
4. How does retail media benefit FMCG brands in the digital age?
On digital shopping journeys, products are less visible: you go from meters of shelves to a simple screen. With the digital and e-commerce boom, FMCG brands need more than ever to promote their products and generate a buying impulse among their target audiences.
In this context, brands benefit from retail media and its positive effects on several levels.
Retail media helps FMCG brands to become visible to a large audience. It is estimated that in-store traffic at Walmart is higher than that generated on the web by Google or Amazon in the US. But above all, digital retail media makes it possible to reach a strategic target audience, the new generations of consumers, the group with the strongest purchasing power. Indeed, the main users of digital journeys are families and young adults (18-35 years old).
On the other hand, retail media allows brands, thanks to all the data collected by retailers, to personalise their message by offering strategic consumers the product that suits them. Because, while a media platform makes it possible to know what customers prefer (like Facebook) or want (like Google), a retail media platform knows what they actually buy in the end.
In addition, retail media has a significant benefit: communicating directly with the consumer during the purchase journey. Whether it is on an e-commerce website, or on the physical shopping path, retail media appears at the very moment when impulse purchases can be triggered: just before the act of purchase.
Finally, thanks to retail media, advertising investments are closely tracked. The related KPIs provide real-time data on the relevance of campaigns and their impact on sales. 
This valuable information enables FMCG brands to invest in campaigns that are accurately measurable, and can be optimised in real time if necessary.
5. How does digital retail media better meet the expectations of today's consumers?
The typical consumer profile has definitely changed. More connected and better informed than ever before, but also saturated with advertising messages, they prefer personalised, relevant and non-intrusive communication.
Retail media is one of the digital levers that today's consumers more readily accept:
Its aim is to accurately personalise communication with customers. Over-engaged audiences, who are exposed on average to 1,200 advertising messages every day, appreciate the fact that a brand takes the time to personalise the message delivered to them. According to an Accenture study, 66% of French people are more likely to buy from a brand that demonstrates such personalisation. Well-targeted and well-structured communication, made possible by retail media using purchase data, builds credibility with the brand and its message.
It fluidifies communication with the brand or retailer. By addressing consumers at the right time and natively, directly on their shopping path, retail media is less intrusive than traditional advertising, making the customer experience more enjoyable.
It energises and improves the customer journey, by varying communication formats and making offers more attractive through relevant matching products.
Retail media is therefore well and truly adapted to the expectations of today's consumers.
6. How do you make retail media advertising effective?
Our advice to make retail media activities really effective is to combine with activation.
This meaning including an immediate benefit for the customer, such as a discount coupon, into the retail media communication. According to a Sogec 2018 study, it's an effective technique with 84% of consumers finding that a coupon creates an appetite for buying.
Why combine retail media and activation?
On the one hand, to attract the attention of the consumer, in a context of over-solicitation; and on the other hand, to effectively trigger the purchase, and thus increase the conversion rate.
For activation to be effective, the offer needs to be:
Very easy to use, in one click: you need to integrate a clear call-to-action into the communication, and adding the coupon in the shopping cart must be quick.
Sufficiently interesting for the customer: the additional value proposition must match the client's effort and engagement.
Available on all purchase paths, to reach omnichannel consumers.